Sokotra II.část
Dalšího dne brzy ráno vyrážíme do vzdálené oblasti vesnice Qualansiyah. Jedná se o poslední místo západně od hlavního města, kam se dá ještě zajet autem. Cesta je dlouhá, ale naštěstí si ji můžeme krátit pozorováním okolní exotické krajiny. Pláže, oázy a malé vesničky se míhají jedna za druhou, stejně jako skupinky dětí pasoucích kozy a velbloudy. Po zhruba hodince přijíždíme na místo. Vesnici projíždíme a míříme ještě několik kilometrů dál, kde se pobřeží strmě zvedá k přilehlému hřebenu. Opouštíme auto a vydáváme se na túru nahoru. Slunce je již vysoko na obzoru a cesta do kopce je opravdu vyčerpávající. Odměnou za naši snahu jsou neskutečné výhledy na okolní krajinu. Tyrkysové moře omývající bílé pláže působí až pohádkovým dojmem.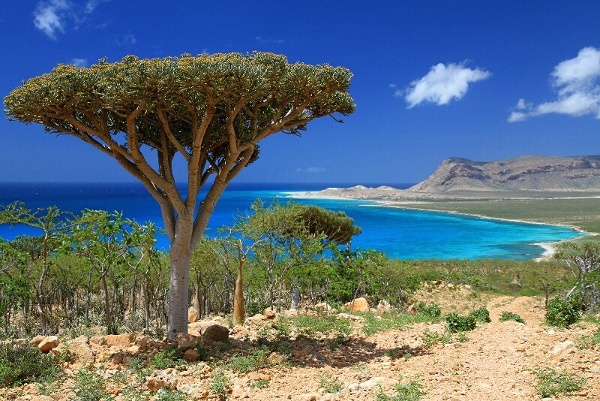 Pohádkový pohled na pobřeží Qualansiyah.
Při okolním botanickém průzkumu nalézáme stromové pryšce rodu Euphorbia arbuscula, kadidlovníky rodu Boswellia socotrana, nebo třeba velmi fotogenické lahvovníky rodu Adenium obesum. Díky ostrovní evoluci je zde velká většina jak rostlinných tak živočišných druhů endemická. To znamená, že je nenajdete nikde jinde na planetě zemi než právě zde na Sokotře. To je taky jeden z hlavních důvodů proč je právě Sokotra cílem vědeckých expedic z celého světa. Byla zde objevena již celá řada nových druhů a spousta jich stále čeká na své objevení a popsání.
Okurkovník rodu Dendrosicyos socotranus.
V odpoledních hodinách jsme již značně vyčerpáni a scházíme dolů k autům. Přesouváme se zpět do vesnice a pak dále k nedaleké pláži. Po cestě nás řidič upozorňuje na přísný zákaz focení. Po chvíli zjišťujeme proč. Celé pobřeží je zde lemováno starými zakopanými ruskými tanky. Zákaz focení nám přijde úsměvný, ale raději jej dodržujeme. Po krátkém přesunu již scházíme dolů k jedné z nejkrásnějších pláží světa. Dlouhou písečnou pláž lemují velké čistě bílé duny přecházející v oranžové skály táhnoucí se do vnitrozemí. Paradoxem je, že i když se jedná o tak nádherné místo nikoho tu nenajdete. Teda až na několik zvědavých arabů pokukujících z okolních skal. Vychutnáváme si úžasné koupání a na sklonku dne máme to štěstí vidět i nádherný západ slunce. Celá okolní krajina se zbarvila do červena a nabídla nám naprosto nezapomenutelný pohled.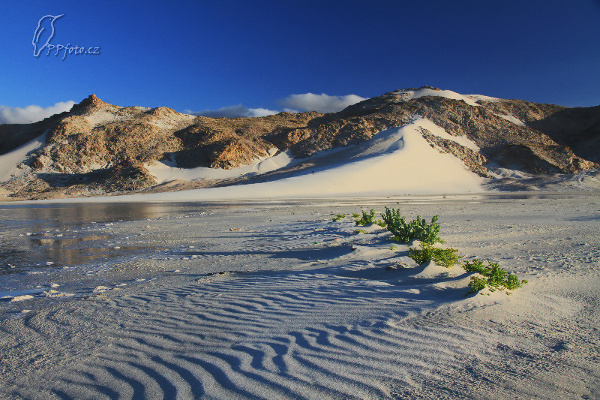 Jedna z nejkrásnějších pláží u vesnice Qualansiyah.
Po této úžasné podívané se vracíme zpět k autům a vyrážíme zpět do hotelu. Projíždíme noční pouštní krajinou, když tu z ničeho nic náš řidič zastavuje a odchází pryč. Nedá mi to a po chvilce čekání se jdu podívat kam že to šel. Našel jsem jej asi 30 metrů od auta jak se modlí. Lehám si tedy na rozehřátou cestu a pozoruji krásy místní noční oblohy. Od té České je značně odlišná. Díky žádnému světelnému znečištění je zde vidět několikrát více hvězd než ve střední Evropě. Další zajímavostí je možnost vidět zároveň jižní kříž a severku. Po asi hodině přichází řidič a my můžeme zase pokračovat k hotelu kde nás čeká už jen večeře a zasloužený odpočinek.
Druhého dne vyrážíme na dvoudenní túru do hor. Náš řidič Mohamad zastavuje u kraje nové silnice vedoucí přes pohoří až k jižnímu okraji ostrova. Auto zde necháváme a vyrážíme směrem k východu. Cestu nám tvoří stezky vyšlapané od krav a koz. Po několika hodinách zastavujeme na odpočinek přímo na hraně pohoří Haghier s výhledem na hlavní město. Po chvíli odpočinku a kochání se výhledem pokračujeme dál. Člověk si tu moc stejně neodpočine jelikož se neschová před úmorným sluncem. Cestička vede dál pichlavou buší vysoko do hor. Po cestě nacházíme několik jezírek a louží kde se můžeme trochu svlažit. Zajímavé je že i v této výšce okolo 1000 metrů jsou ve vodě přítomní krabi.

Výhledy na pohoří Haghier.
V pozdních odpoledních hodinách konečně dorážíme na místo. Vyměňujeme čidla v malé meteorologické stanici a vyrážíme na nejvyšší vrchol ostrova na západ slunce. Výhledy z vrcholu ostrova jsou dech beroucí a těžko popsatelné. Stojíme na vrcholu hřebene. Směrem k jihu se táhnou hluboká zelená údolí stále ještě plná dračinců vyčnívajících nad okolními keři. Směrem k severu hřeben strmě klesá téměř na úroveň moře a vytváří zde několik kilometrů širokou planinu vbíhající do moře. Zapadající slunce vykresluje oblohu do různých odstínů oranžové, červené a fialové až po chvíli mizí za obzorem.
Dračinec rodu Dracaena cinnabari v zapadajícím slunci.
Vracíme se zpět do našeho tábořiště a rozděláváme oheň. Při vaření večeře posloucháme příběhy a zážitky našeho průvodce Mohamada. Po večeři zjišťujeme že nám příroda nachystala ještě jedno překvapení. Okolní údolí se zalila mraky a nad horizontem právě vyšel měsíc. Čirou náhodou je dnes zrovna úplněk a jasný měsíční svit zalil okolní krajinu. Mraky rychle plující údolími a přelévající se z jednoho do druhého připomínají moře a vrcholky hor ostrovy. Vylézáme na nejvyšší bod v okolí a ještě asi hodinu se kocháme krásou okolní krajiny. Poté konečně uleháme do spacáku a jdeme spát. V noci klesají teploty překvapivě až k dvaceti stupňům což nám již připadá jako mrazivá teplota. Ráno se probouzíme s prvními slunečními paprsky. Balíme a vyrážíme stejnou cestou zpět k autu. V poledne dorážíme k autu a chceme vyrazit zpět do hotelu. Auto ale nestartuje. Řidič vše pohotově opravuje několika údery kladivem a my můžeme vyrazit.
Západ nad pohořím Haghier.
Undeniably believe that which you stated. Your favorite justification appeared to be on the internet the
simplest thing to be aware of. I say to you, I certainly
get irked while people consider worries that they just do
not know about. You managed to hit the nail upon the top as well
as defined out the whole thing without having side-effects , people could take a signal.
Will probably be back to get more. Thanks