Kriminalita na Novém Zélandu
Již delší dobu sleduji v internetových diskuzích nešťastlivce, kteří píší o tom, že jim bylo ukradeno či v lepším případě jen vykradeno auto na Novém Zélandu. Už jsem si na to zvyknul, protože to je na Zélandu zcela běžná a normální věc. Teď si asi říkáte, co to tu plácám za nesmysly. Vždyť ať už otevřete kterýkoliv časopis o cestování či se podíváte na každý druhý web na internetu, tak na vás vyskočí článek o tom, jak je Zéland bezpečný a pro turisty přívětivý. Bohužel je to přesně naopak. Proč tedy všude lidé píšou o tom, jak je na Zélandu bezpečně? Pravděpodobně z neznalosti. To, že tam třeba cestovali nebo pracují a nic se jim nikdy neztratilo, ještě ale neznamená, že se tam nekrade.
Pojďme se tedy spolu podívat na oficiální statistiky novozélandské policie a pro porovnání se podíváme i na statistiky policie ČR, ať máme rámcovou představu a dokážeme si ta čísla představit vpraxi. Předtím, než začnu cokoliv psát, tak musím uvést, že budu porovnávat kalendářní rok 2014. Pokud se ptáte proč, tak je to proto, že novozélanďané nemají statistiky pro rok 2015 stále hotové. Porovnávat budu pouze krádeže aut a vloupání do aut. Zde je nutné říci, že jednotlivá porovnání budou pouze orientační. Čísla nelze přesně porovnat, jelikož každá země má jinou metodiku a samotnou definici jednotlivých zločinů. Pro naše orientační zhodnocení to ale bude dostatečné.
Takže začneme tím, co nás zajímá asi nejvíc a to jsou krádeže aut.
Na Novém Zélandu bylo za rok 2014 ukradeno 21,280 aut! To je opravdu neskutečné číslo. Pro porovnání za stejné období bylo v ČR ukradeno 8 720 aut. To je téměř 2,5 více než v ČR. Tím to ale bohužel nekončí. Na Novém Zélandu žije pouze 4,5 milionů lidí, jež vlastní něco okolo 3,5 milionů aut. V ČR je populace zhruba 10,5 milionů lidí a vlastní okolo 5 milionů aut. To znamená, že na Zélandu je 1,4x méně aut než v ČR. Pro přehlednost tedy budu počítat, kolik je krádeží aut na 100 000 lidí. Na Novém Zélandu je na 100 000 lidí 472 ukradených aut. V ČR je toto číslo pouze 58 ukradených aut na 100 000 lidí, což je 8,1x méně! Další zarážející skutečnost je, že čísla krádeží aut od roku 2012 rostou.
Pojďme se nyní podívat na to, kolik aut bylo vykradeno.
Nový Zéland uvádí číslo 27841 vloupání do aut. Zdá se vám toto číslo velmi nízké v porovnání s ukradenými auty? Ano, zdá se vám to správně. Pokud vám někdo auto ukradne, tak voláte policii. Pokud vám ale auto jen někdo vykrade, policii už nikdo nevolá. I když jim zavoláte, stejně nepřijedou a vy díky znechucení jejich přístupem již krádež nehlásíte. Proto tak nízké číslo. V ČR je uváděno 22976 krádeží věcí z aut. Tady se budeme dostávat do spekulativních rovin a ze žádné země nedostaneme relevantní čísla. Pro zajímavost, graf z NZ vypadá, že trend vykrádání aut rapidně klesá. Když se ale podíváte na růst krádeží aut, tak se tomu dá jen těžko věřit. Velmi pravděpodobné vysvětlení je, že se už lidé prostě naučili tyto krádeže nehlásit a každý rok je méně a méně lidí, jež věří v novozélandskou policii.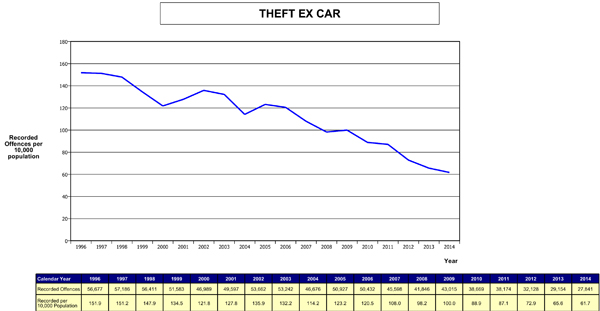 No a teď když známe základní data, se můžeme podívat na další skutečnosti, jež budou váš pobyt a bezpečnost na Novém Zélandu ovlivňovat. Ve statistikách se také můžeme dočíst, kdo je na Zélandu nejčastější oběť. Věřte nebo ne, je to žena od 15 do 20 let následována mužem stejného věku. Dále se to postupně snižuje do 35 roku života a odtud to výrazně klesá. Co vám z toho vychází? Naše cílová skupina, kterou jsou Backpackeři. Turisté jsou na zélandu nejčastější cíl všech krádeží, ale nejvíce to můžeme vidět na mladých backpackerech, jež cestují a spí v obytném autě neboli vanu. Všechno to dává rozum, vždyť tato skupina má drahé věci (notebooky, foťáky, kamery, mobily) a nemá bezpečné místo, kam jinam je dát, než do auta. To místní zloději velmi dobře ví a zaměřují se právě na ně. Další důvod, proč se zaměřují na cizince, je zcela praktický. Místní policie se těmito případy naprosto nezabývá. Mají jiné věci na práci. I kdyby bylo na Zélandu okradena polovina turistů, tak by policie neměla důvod zasahovat. Vždyť Zéland má tak skvělou pověst a po posledních velkofilmech Pána prstenu a Hobbit se turisté jen hrnou. Gangy, jež se zaměřují na turisty, dávají pokoj místním lidem a kriminalita relativně klesá. Takže se jedná o situaci, kdy se vlk nažere a koza zůstane celá. Jediní, kdo na tomto tratí jsou mladí cestovatelé, kteří mnohdy přijdou o celý svůj majetek.
Když už mluvím o té místní policii, pojďme se spolu podívat na další alarmují data a to na objasněnost případů krádeží aut a celkově práci policie.
Objasněnost případů krádeží aut je na Novém Zélandu až rekordně nízká a dokonce každým rokem stále klesá! Takže, pokud vám auto někdo ukradne, máte pouze 10% šanci, že se případ vyřeší a auto najde. Pro představu, policie ČR uvádí objasněnost krádeží aut okolo 23%. Nemůžu se bránit zamyšlení, jak je možné, že je na Zélandu tak nízká objasněnost? Vždyť se jedná o ostrov. Auta nemohou mizet do zahraničí, jak tomu je u nás. Také místní síť silnic je velmi řídká a zloděj nemá moc možností, kam s ukradeným autem odjet. Technologie jde dopředu a ve většině vyspělých zemí se daří s kriminalitou bojovat. Proč tedy ne na Novém Zélandu?
Jak se bránit? Nejlepší obrana je znalost současné situace. Pokud jste se dočetli až sem, tak máte napůl vyhráno. Teď už se nestane, že si necháte foťák či notebook v autě. Pojďme si ale říct pár základních rad, které vám mohou zachránit spoustu peněz.
1. Nejezdit backpackerským autem. Tohle je taková rada nerada. Pokud máte v plánu v autě spát, tak se vanu nevyhnete. I tak můžete třeba využít auta kamarádů, když pojedete na výlet a jet menším autem, které vypadá, že patří místním a ne cestovatelům.
2. Nikdy neparkovat na místech, kde backpackeři obvykle parkují. Klasicky to jsou začátky a konce treků, slavné atrakce, pláže nebo městské parky, veřejná WC a jiné. Občas pomůže si místo projít a podívat se, jestli na zemi neleží rozbité sklo. To sklo je tam proto, že tam vykradli někoho před vámi. Často jen rozbijí okno a auto vyberou. Nejlépe se s někým domluvit a parkovat u někoho na soukromém pozemku.
3. Nikdy v autě nic cenného nenechávat! Pokud se od auta vzdalujete na delší dobu, tak vše mít sebou (ve městech i na kratší dobu). V autě ani nic neschovávejte. Zloději každé auto velmi pečlivě vyrabují a najdou opravdu vše.
4. Mít pořád pas v bezpečí. Sice je to pouze kus papíru, ale vyřizování nového vám může velmi zkomplikovat život. Dobré je mít při cestování pasy dva, jeden s sebou a jeden v bezpečí doma.
5. Zdržovat se v bezpečnějších oblastech. Celkově se krade nejvíce v Aucklandu a na severním ostrově. Nejčastěji kradou Maoři, takže se držet dál od míst více obývanými Maory.
6. Zálohujte si fotky. Často víc než ztráta peněz a majetku bolí ztráta vzpomínek v podobě fotek z výletu a cestování. Zálohovat můžete např. online, nebo na USB a posílat zpět do ČR.
Závěr: Nový Zéland je krásnou krajinou, jež určitě i přes veškerá rizika stojí za to navštívit. Jen pokud vám někdo někdy řekne, že je Zéland bezpečným místem pro turisty, tak ho odkažte na tento článek. Sdílení informací je pro nás jedinou obranou před zloději. Češi mají tendenci nadávat na české policisty a myslet si, že jsou k ničemu. V porovnání s policií na Zélandu bychom si ale českých policistů měli vážit. Odvádí o 100% lepší práci než jejich Zélandští kolegové. Pokud se tedy chystáte na Zélandu žít životem backpeckera a spát v autě, tak jste přímo chodící terč. Dávejte si pozor a užívejte cestování.
Zdroje :
Kriminální statistika NZ pro rok 2014:
http://www.police.govt.nz/sites/default/files/publications/crime-stats-national-20141231.pdf
Přehled zločinců pro rok 2014:
http://www.police.govt.nz/sites/default/files/publications/rcos-briefing-factsheet.pdf
Přehled obětí pro rok 2014:
http://www.police.govt.nz/sites/default/files/publications/rcvs-stakeholder-briefing.pdf
Kriminální statistika ČR pro rok 2014:
http://www.policie.cz/clanek/statisticke-prehledy-kriminality-za-rok-2014.aspx
Počet aut na Novém Zélandu pro rok 2015:
http://www.transport.govt.nz/assets/Uploads/Research/Documents/Fleet-reports/The-NZ-Vehicle-Fleet-2015-final.pdf
Počet aut v ČR pro rok 2015:
http://www.autosap.cz/zakladni-prehledy-a-udaje/slozeni-vozoveho-parku-v-cr/#graf-celk